Currently there are around 800 Indian Companies employing 110,000 people in the UK.  India is now the second source of foreign direct investment into the UK (after the US) .  Both countries view each other as integral to its success as UK companies have also invested  billions into India and employ approximately 700,000 employees hence the reason why both countries have been so keen to send large delegations to each country to build on the  excellent business and trading relationship.
However, the dynamics may be changing following the UK intention to tighten up its immigration laws and exit the EU.  Immigration has been one of the biggest social, political and economic challenges facing Europe in recent years and UK will decide soon if it will stay in the EU or exit from the EU.
However, Britain Exit" Brexit" could endanger the flow of investment and personnel by diminishing Britain's role in providing access to Europe and may mean Indian companies will go to Europe directly instead of setting up its European headquarters in the UK.  In the past UK was an attractive option due its perception as a gateway to Europe and its extensive links to other countries inside and outside Europe.
With the constant spotlight on immigration the UK has imposed further restrictions on work visa especially the impact on Tier 2 – Intercompany Visa.  Indian companies are worried since Indian professionals were given the largest number of visas under Tier 2 in the year ending September 2015. Indian IT workers accounted for 90% of visas issued under the Intercompany Transfer (ICT) route.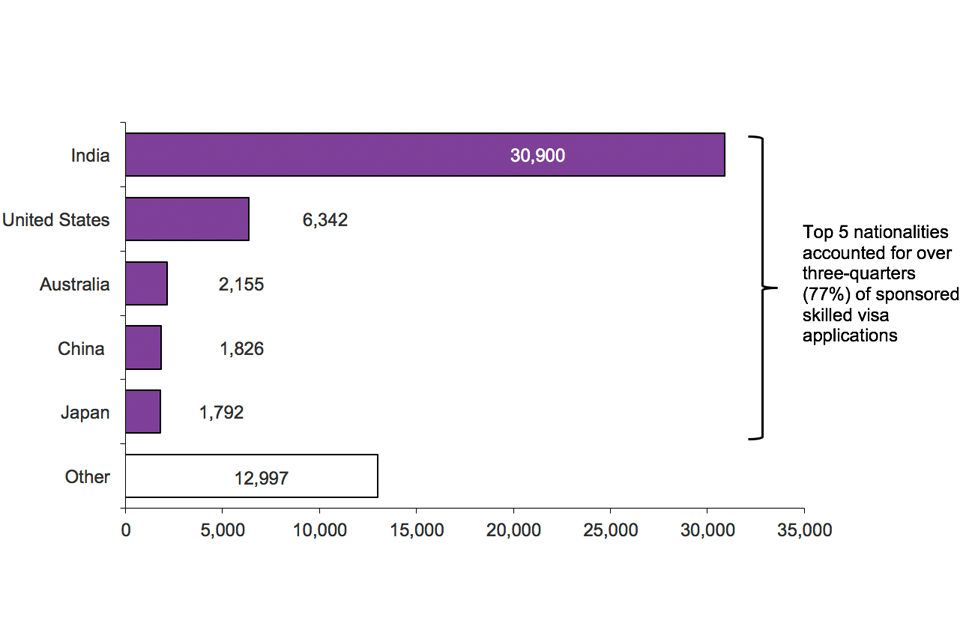 Indian nationals accounted for over half (55% or 30,900) of the sponsored 56,012 applications in 2015 (See above graph).
Changes to Work Visa
Increases in the Tier 2 minimum salary threshold to £30,000 for experienced workers. This change will be phased in, with the minimum threshold increased to £25,000 in autumn 2016 and to £30,000 in April 2017. The minimum threshold for new entrants will remain at £20,800.
Employers will continue to be able to recruit non-EEA graduates of UK universities without first testing the resident labour market and without being subject to the annual limit on Tier 2 (General) places, which will remain at 20,700 places per year. Additionally,  extra weighting within the Tier 2 (General) limit to businesses sponsoring overseas graduates, and will allow graduates to switch roles within a company once they have secured a permanent job at the end of their training programme. These changes will take effect from autumn 2016.
From April 2017, there will be extra weighting within the Tier 2 (General) limit where the allocation of places is associated with the relocation of a high-value business to the UK or, potentially, supports an inward investment. The resident labour market test for these applications will be waived.
All intra-company transferees will be required to qualify under a single visa category with a minimum salary threshold of £41,500. The exception will be the Graduate Trainee category, where the current salary threshold will be reduced from £24,800 to £23,000, and increase the number of trainees that an employer may bring to the UK from five to 20. There will be a transitional period until April 2017 to allow those affected to plan for the changes. In autumn 2016,  and intend to close the Skills Transfer category to new applications and increase the minimum salary threshold for the Short Term category to £30,000. From April 2017,  close the Short Term category to new applications.
From autumn 2016, all intra-company transferees will be required to pay the Immigration Health Surcharge. We will review the extent to which allowances may be counted as salary to ensure we have appropriate safeguards in place against undercutting of the resident labour market and consider how to take forward the MAC's proposal for a review of skills in the IT sector.
Introduction of the Immigration Skills Charge to incentivise employers to reduce their reliance on migrant workers and to invest in training and up-skilling UK workers. The charge will be levied on Tier 2 employers at a rate of £1,000 per Certificate of Sponsorship per year. A reduced rate of £364 will apply to small and charitable sponsors, as defined by Immigration and Nationality (Fees) Regulations. to a Tier 2 visa will be exempt.
The Government intends to have completed implementation of these measures by April 2017. As part of the implementation process, they also intend to simplify the Immigration Rules and guidance for skilled workers coming to the United Kingdom, to make the system clearer and more user-friendly for employers and applicants.
How will the changes affect Indian Companies
The government has introduced these changes to decrease the profit arbitrage that existed when recruiting from overseas and hope this will encourage more Indian companies to train and employ UK Citizens rather than rely on resources from overseas.
Indian IT companies have historically brought personnel from India for the know how but with an added incentive of very high profit due to  the low immigration salary threshold coupled with various expatriate social security and tax advantages (resulting in a higher net pay for the employees.
The profit per Indian employee will now fall substantially with the new salary threshold, Skill immigration charge,  immigration health charge, high visa fees and plus other costs of employment such as travelling and accommodation this could result in a higher cost in some cases compared to employing a similar UK worker.
While it may force some Indian companies to rethink their strategy and start to hire and train British workers some companies will be undeterred as some skills in the IT sector cannot be easily transferred. The Start up sector in India is buoyant with companies seeking to extend their global footprint and view UK has a key market.  The additional costs together with a convoluted, stringent and time consuming immigration process may actually put off Indian companies starting and investing in the UK.  Though, it is important for Indian companies to put together an business and financial plan before coming to such a conclusion
Most of these measures will be implemented by April 2017 and therefore  expect many companies to bring more personnel into the UK during 2016 to save costs.
On a positive note the government has not implemented one of Migration Advisory Committee key recommendations  to extend the qualifying period for ICT Visa from one year to two years.
Please do comment how you think the changes will affect Indian companies.